Islamic Reading Website as Authentic Material to Improve Reading Skills and Islamic Values
Dhian Marita Sari

Nunun Indrasari
Abstract
In this disrupted era, technology affects all aspects of human life, particularly education.  Reading website is one of the online materials that can motivate and assist students and lecturers in the teaching-learning process. Islamic reading websites improve students' reading comprehension skills and encouragement of students' Islamic values. The purpose of this study is to investigate the use of Islamic reading websites articles as authentic material in teaching reading comprehension of the third-semester students at STIT Madani Yogyakarta. The qualitative research method was used in this study. This study was carried out on the third-semester students. The collecting of data was obtained through observations and interviews. Based on the research, using Islamic websites as useful sources of information can help students improve their English skills. Furthermore, students' reading performance and Islamic values were constantly improved by their use of Islamic websites.
References
Aliyu, M., Mahmud, M., Md Tap, A. O., & Mohammad Nassr, R. (2013). An Empirical Investigation on The Use of Islamic Websites and User Positive Change: A Muslim User Persception. Asia-Pacific Journal of Information Technology and Multimedia, 02(02), 13–26. https://doi.org/10.17576/apjitm-2013-0202-02
Dirgantari, A. S., & Susantiningdyah, H. (2021). Web-Based Learning Material for Raising Students' Levels of Awareness and Use of Reading Strategies. PUPIL: International Journal of Teaching, Education and Learning, 4(3), 95–110. https://doi.org/10.20319/pijtel.2021.43.95110
Erwinda, F. Y., Ashari, D., Pd, M., Wardani, E., Pd, S., & Hum, M. (2020). Improving Students ' Rea ding Comprehension Through Internet-Sourced Reading Materials As English Teaching Media. 1(1).
Grabe, W & L. F. Stoller. (2002). Teaching and researching reading. Harlow: Pearson Education.
Guo, S. (2012). Using Authentic Materials for Extensive Reading to Promote English Proficiency.English Language Teaching, 15.
Harmer, Jeremy. (2002). The practice of English language teaching (3rd Edition). London:
Longman.
Johnston, B. (2003). Values in English language teaching. Mahwah, NJ: Lawrence Erlbaum Associates
Juniardi, Y. (2019). Online Reading Sources Material (ORSM): Enhancing Students' Reading Comprehension.Banten: Sultan AgengTirtayas.
Khairuddin, Z., Shukry, A. S. M., & Sani, N. A. (2014). Reading trends and perceptions towards Islamic English websites as teaching materials. English Language Teaching, 7(8), 124–133. https://doi.org/10.5539/elt.v7n8p124
Munir, S. (2013). Developing Islamic content-based reading comprehension materials for Islamic higher education (Unpublished. Ph. D Dissertation). Semarang: State University of Semarang.
Munir, M., & Hartono, R. (2016). Islamic Magazine Articles To Enhance Students' Reading Skill and Build Their Character Values. International Journal of Education, 9(1), 66. https://doi.org/10.17509/ije.v9i1.3720
Patel, M.F., Jain, M. Pravin. 2008. English Language Teaching (Methods, Tools, and Techniques). Jaipur: Sunrise Publishers and Distributors
Rahmawati, H. (2018). English Literacy Culture of University Level Efl Learners: How Literate Are They? JEELL (Journal of English Education, Linguistics and Literature), 5(1), 79. https://doi.org/10.32682/jeell.v5i1.947
Richard, J. C., & Rodgers, T.S. (2001). Approaches and methods in language teaching (Second edition). Cambridge: Cambridge University Press.
Rohmah, Z. 2012. Incorporating Islamic messages in English teaching in the Indonesian context. International J. Soc. Sci. & Education, 2(2), 157-165.
Syakur, A., Fanani, Z., & Ahmadi, R. (2020). The Effectiveness of Reading English Learning Process Based on Blended Learning through "Absyak" Website Media in Higher Education. Budapest International Research and Critics in Linguistics and Education (BirLE) Journal, 3(2), 763–772. https://doi.org/10.33258/birle.v3i2.927
William, Eddie. 1996. Reading in the Language Classroom. London: Macmillan Publishing, Ltd.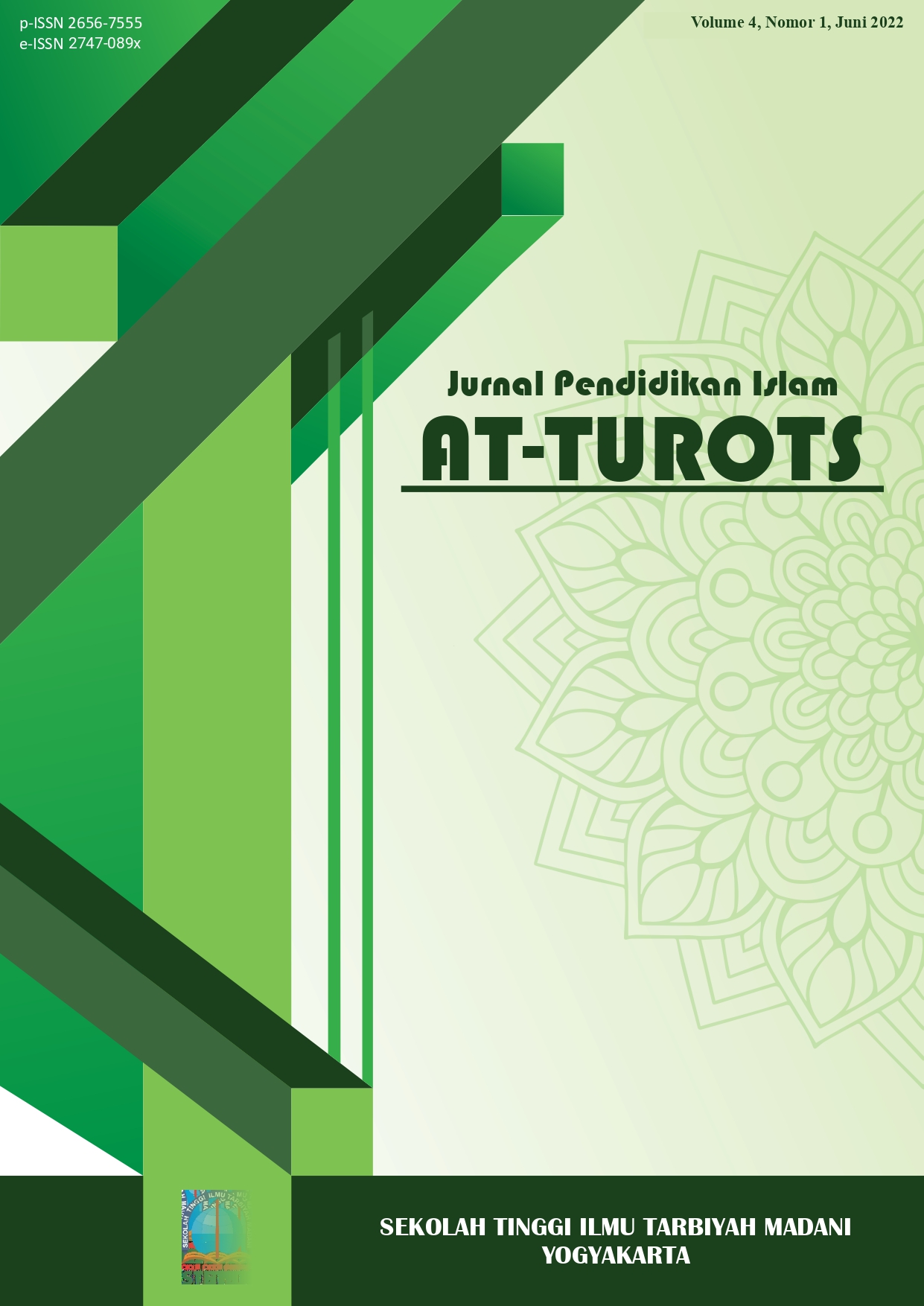 How to Cite
Dhian Marita Sari, & Nunun Indrasari. (2022). Islamic Reading Website as Authentic Material to Improve Reading Skills and Islamic Values. At Turots: Jurnal Pendidikan Islam, 4(1), 70-79. https://doi.org/10.51468/jpi.v4i1.92